Free slot :
Razor Shark
This is the free slot machine Razor Shark from the provider Push Gaming
Ready to play it on an real casino?
How Razor Shark works
Razor Shark is a slot machine released in 2019 by the provider Push Gaming. With a well thought out design, you will easily dive into the marine world with this slot machine. Extremely volatile, this slot can pay you up to 50,000 times your initial bet. With a minimum bet of 0.10 cents and a maximum bet of €100, you can win very large sums. Despite its extreme volatility, Razor Shark has an RTP (return to player) of 96.7%.

The starting grid has 5 vertical columns and 4 horizontal rows.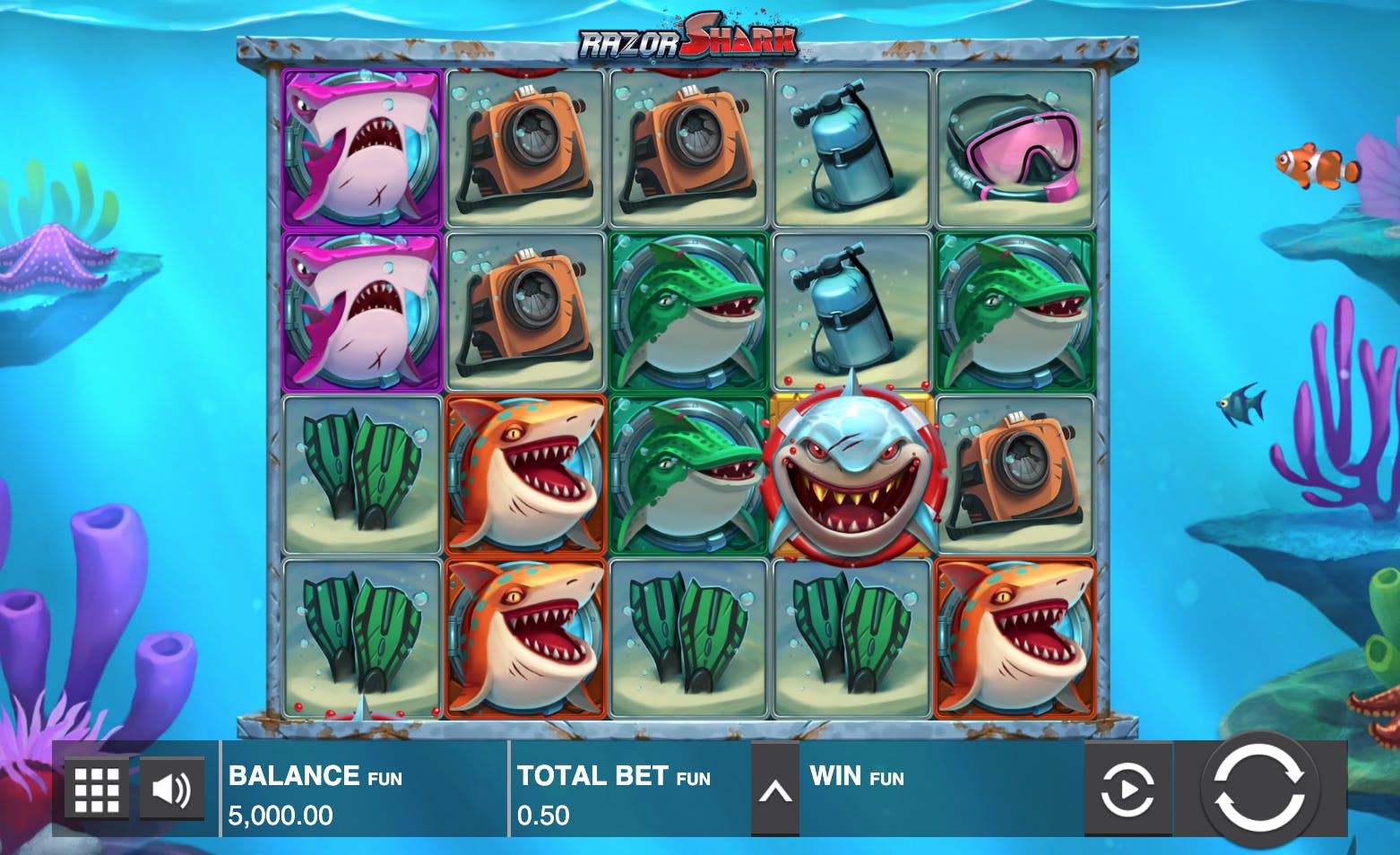 During your free games, algae may appear on your grid. These hide a symbol or bonus games. As long as you have algae on your screen, it will count as "free spins", i.e. your balance will not move.

As soon as there are no more algae on your screen, your scale is debited again with each turn made.

It is possible to get the bonus with the "mystery stacks". To do so, the bonus symbol must appear three times on your screen in the same round.

In algae, you can also obtain "razor reveal features". These are golden sharks that will reveal a multiplier. One or more gold sharks may appear. Your initial bet will be multiplied by the total sum of your multipliers.

The different symbols of Razor Shark
Razor Shark is a slot machine with 8 symbols + 1 wild symbol. Depending on the symbol you connect and the number of connections you make with that symbol, your final win will be more or less.


The shark is a wild symbol that connects with all other symbols. It's also the highest paying symbol on this slot machine.
The different connections in Razor Shark
Razor Shark is a slot machine that consists of 20 paylines. They are divided as follows: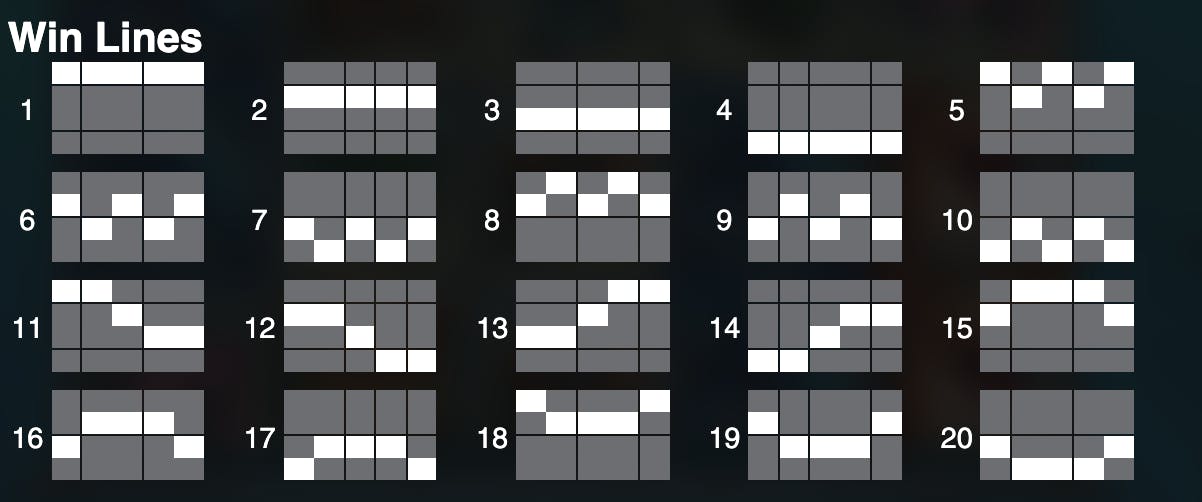 How the Razor Shark bonus works
There are several ways to get the bonus. As explained above, you can get your bonus through algae. You can also get it in free spins. To do so, at least 3 bonus symbols must appear on your starting grid.

There is no specific number of spins on this slot machine when you get the bonus. The bonus only stops when all the algae disappears from your screen. With each algae that goes down from top to bottom, the multiplier for your future connections increases as well.
Our opinion on Razor Shark
Razor Shark is a slot machine with explosive potential. It is very pleasant to play and easy to handle.

If you are looking for a slot machine that boosts your balance, this machine will be able to meet your expectations.

However, although it has exceptional potential, it is also a particularly frustrating slot machine. Indeed, getting the bonus sometimes takes a long time. And if you're lucky enough to get it, it's not often that you'll win the jackpot.
📈 What is the volatility of Razor Shark
💸 What is the RTP of Razor Shark
🎰 What is the supplier of the slot machine? Razor Shark
The best slots from the same provider
Here is a top slot machines that are a big hit with other online casino players! We've selected a few for you:
Giveaways & promotions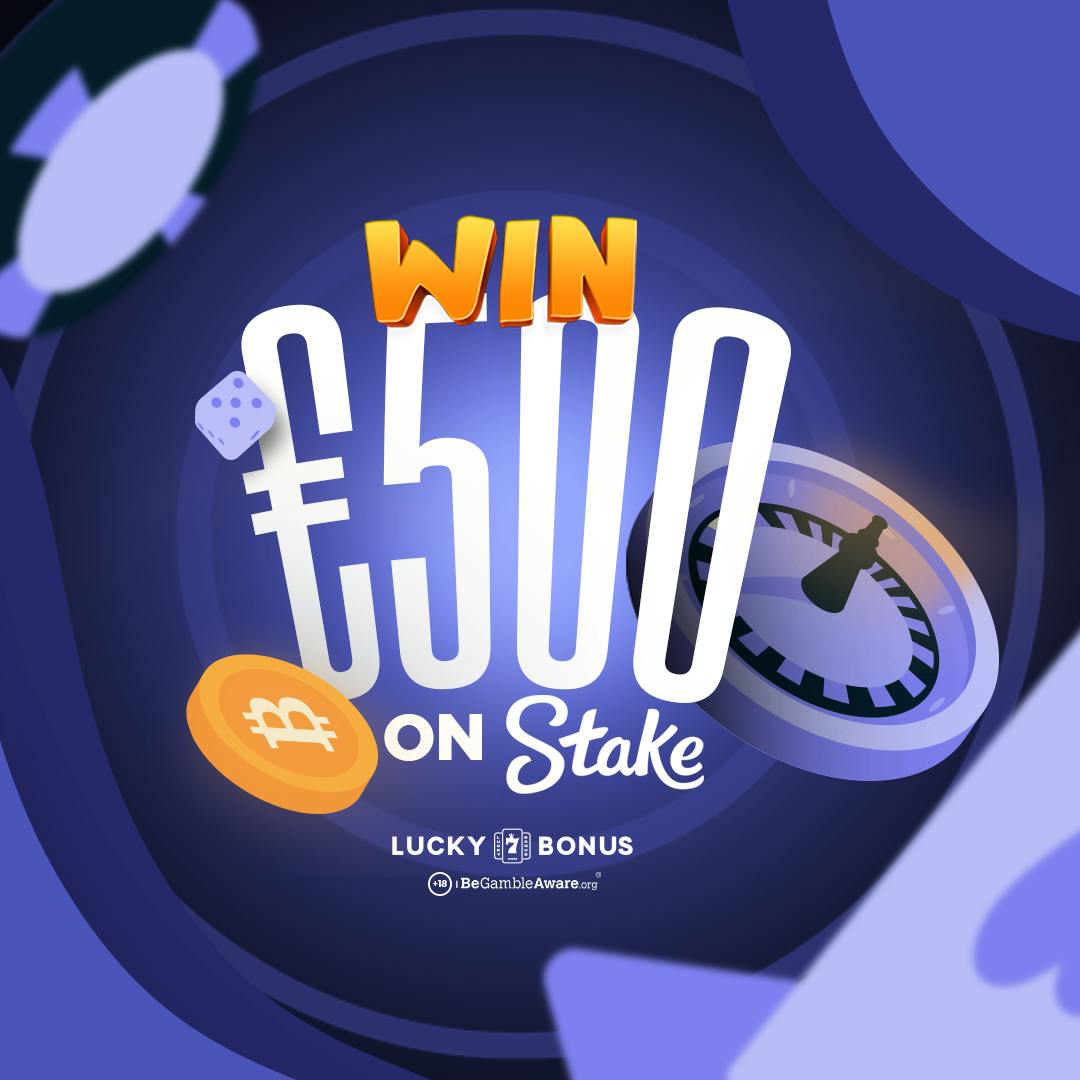 Testing another provider ?
It is possible to play other providers on Lucky7bonus, here is the list:
Interested in our VIP?
Wanna get free-spins and no deposit bonuses? Join Lucky7Bonus' VIP by filling your email!
This site is protected by reCAPTCHA, under Google's Privacy policy and Terms of service.