Neosurf: an accessible prepaid card
Neosurf is a company that provides you with payment methods using prepaid electronic cards. These can be used on the Internet and allow you to make your purchases in complete anonymity.

In addition, many of the casinos featured on Lucky7Bonus accept this deposit method. Accessible to all, you will be able to make your purchases in no time.
Playing at the casino with a Neosurf coupon
Introduction on the difference between a Neosurf and a credit card
Neosurf is a means of payment that can provide you with a prepaid electronic card. However, the latter will have certain functions unavailable, unlike your credit card. Moreover, your credit card is linked to your bank while your Neosurf card is linked to the Neosurf company. Moreover, your Neosurf card only works on sites that accept it, unlike the credit card which works everywhere.

Also, you will pay taxes on your Neosurf prepaid card that you will not have on your credit card and vice versa.
What's Neosurf?
Neosurf is a prepaid card that allows you to make purchases on the Internet or to deposit money at an online casino. You can get it in two ways.

The first is to go to a point of sale where you can find Neosurf prepaid cards that can only be bought in cash. To find out where the nearest point of sale is located, nothing could be simpler. Go to the official Neosurf website and click on the option "where can I find Neosurf? ».

Once you have clicked on this option, you will be redirected to a page asking you to give your geolocation. Don't worry, this is not to track you, but only to give you the nearest points of sale.

As soon as the requested information has been correctly filled in, the Neosurf website will give you the addresses closest to your home to buy a Neosurf card.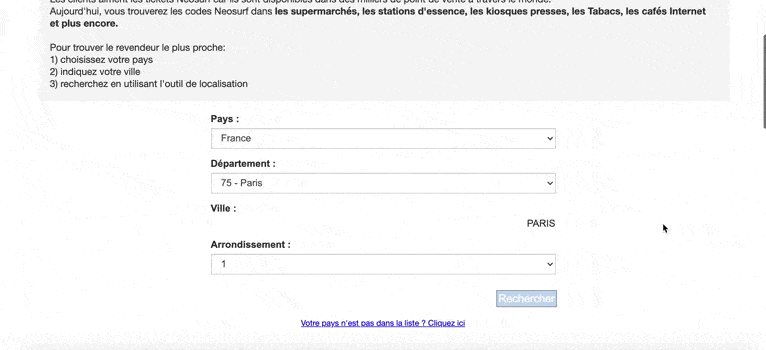 As soon as you have found your nearest point of sale, go there with your cash. Once you have arrived there, simply ask the retailer for a Neosurf card, the value of which can vary from €10 to €100. Once your purchase has been made, you will receive a ticket with a 10-character code written on it. This code will be used to make your purchases on the Internet, do not reveal it to anyone.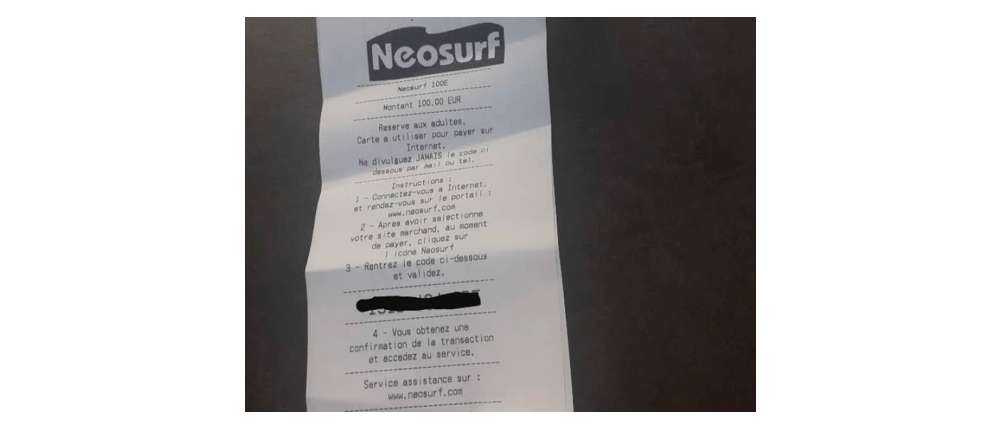 You will be able to use your Neosurf tickets in countries where this means of payment is accepted. However, if you buy your Neosurf card in Euros and wish to pay in the United States with it, your ticket will be debited according to the current exchange rate. In addition, a 2% exchange fee will be charged.

It is very important to note that there is no expiry date for a Neosurf ticket. However, if one year after purchase you have not used the full amount of your ticket, an inactivity fee of €2 will be deducted. In addition, if you spend 6 months without using your Neosurf ticket, 2 € will be deducted every month until you reuse your ticket or the amount on it reaches 0 €.

The second method is possible directly on the MyNeosurf website. Go to the site and create a MyNeosurf account. Once your account is created, click on "use".

Once you have clicked "use", you will be redirected to a page where a code will appear. This code will be used for all your purchases on the Internet and even receive money. Do not lose this code, which is unique to your account, and do not share it with anyone else, so that a third party does not use the money for you. For security reasons, the code has been deliberately hidden in the following photo.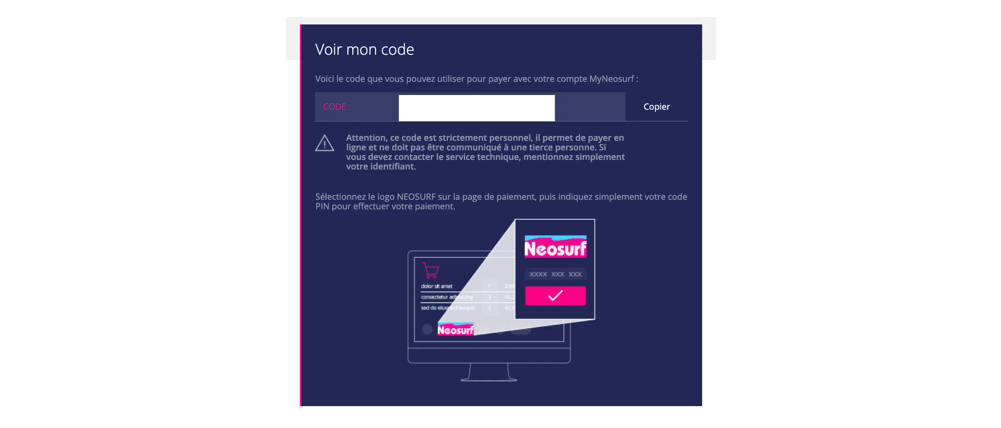 As shown in the photo above, this code will be used for all your purchases on the internet. If you don't have any money left in your account, simply deposit money on it. Simply click on the "deposit" box and choose from the 4 available deposit methods.

Once you have chosen, enter your personal information and you will be credited immediately to your MyNeosurf account. Please note that depending on your deposit method, fees may apply. Indeed, if you decide to buy a Neosurf ticket at a point of sale and then convert this money to your MyNeosurf card, you will be charged 4.5% of the amount of your deposit.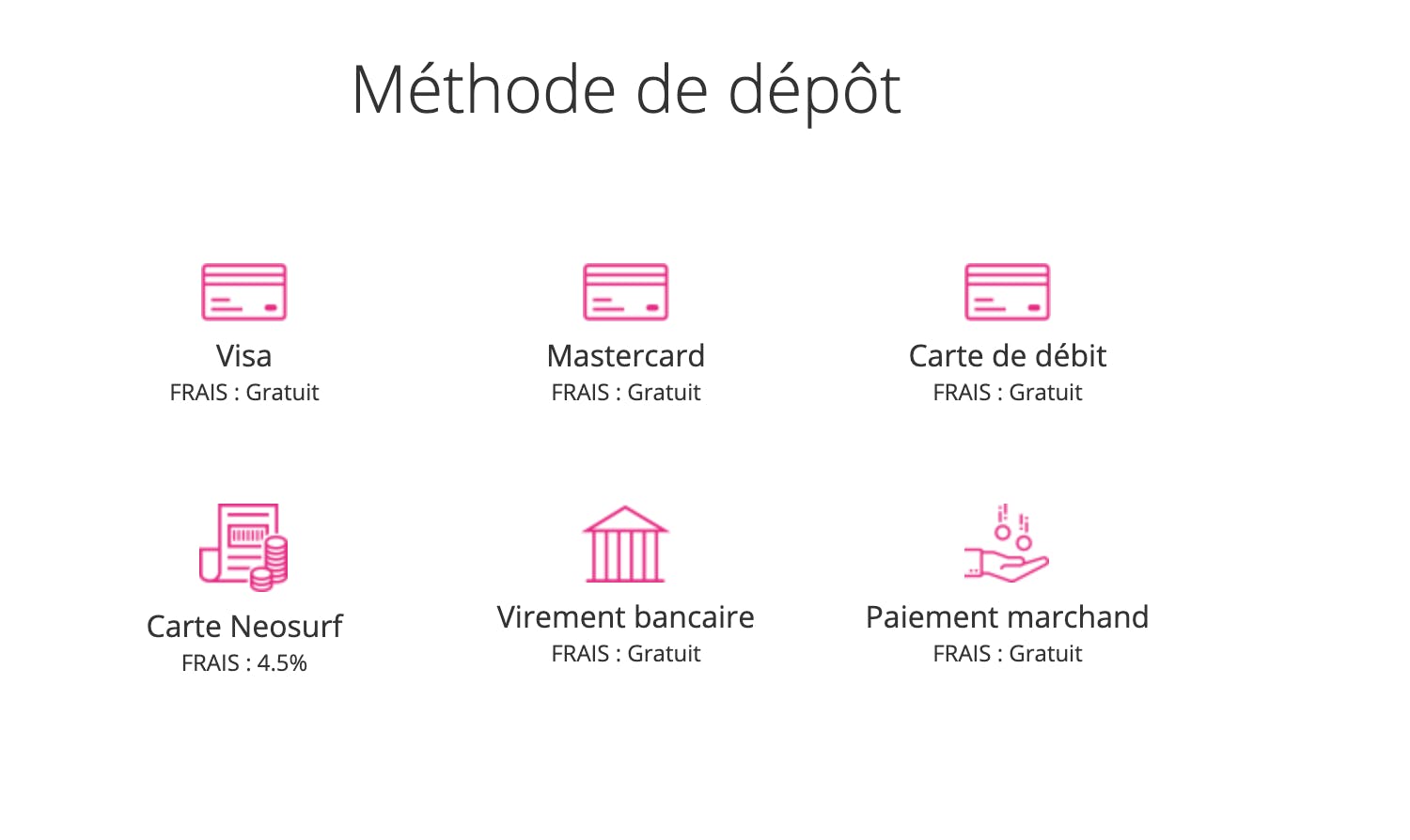 The advantages of Neosurf
There are undeniable advantages to using Neosurf prepaid cards or to use the website directly.
A great advantage for Neosurf compared to other prepaid cards is that money can be transferred directly to your myNeosurf account. For example, if you win a large amount of money at the Casino, it will be possible for you to put your winnings into your myNeosurf account.
It is also possible to put the money you have in your MyNeosurf account directly into your bank account. To do this, simply add a bank account and then transfer your money. You can withdraw up to a maximum of €10,000 per month.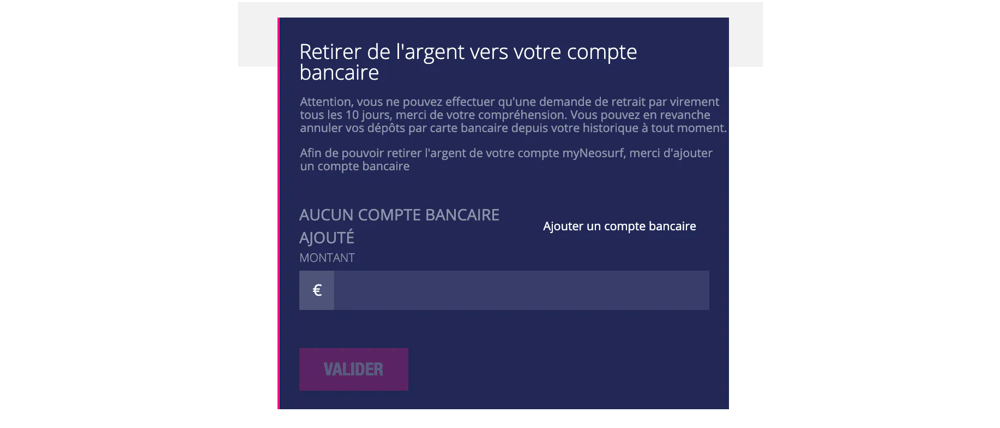 The Neosurf ticket or the MyNeosurf card guarantees you total anonymity throughout your Internet purchases. If during your purchase, a site asks you to enter your bank details, Lucky7Bonus advises you not to proceed with your purchase.
It will be very easy for you to buy Neosurf tickets or to top up your MyNeosurf card. As explained before, many points of sale around the world sell Neosurf cards. If you don't want to travel from home, you can reload directly on the MyNeosurf website, which is a virtual card.
The disadvantages of Neosurf
Although it has many advantages, Neosurf also has some disadvantages.
Even if you can withdraw your winnings directly to your MyNeosurf virtual card and then decide to transfer this money to your bank account, you will have to pay a fee of 1.5% of the total amount of your transfer.

It is possible to get your Neosurf ticket refunded directly on the MyNeosurf website. However, a fee will be taken at the time of the transaction and represents a total of 6% of the total value of the transaction. Thus, if you decide to get a refund for a Neosurf ticket bought €100, you will receive a total of €94.
If you have not sent certain documents to MyNeosurf, you will only be able to deposit very little money on your MyNeosurf account (compared to other competitors). As you can see, you can only deposit €250 over a 30-day period if you use the "credit card" method. However, it will be possible for you to modify your deposits by sending your identity card or passport to verify your identity. A constraint for those who wish to remain a little more anonymous.

If your Neosurf ticket is stolen or if someone manages to steal the code of your MyNeosurf virtual card, it will be impossible to get a refund for all purchases made against your will. If you discover that someone has managed to steal your MyNeosurf code, please inform the support team as soon as possible.
Where to play at the online casino with a Neosurf?
If you only have a Neosurf ticket, you will be able to deposit money at several online casinos present at Lucky7Bonus. Lucky7Bonus has decided to highlight three casinos that accept deposits with a Neosurf Ticket.
Casino Extra (if you wish to play at the casino, simply click on its name).
Fatboss (if you wish to play at the casino, simply click on its name)
How to deposit online with a Neosurf?
To deposit at an online casino that accepts Neosurf tickets, it is very simple. For this tutorial, Lucky7Bonus deposits money at Casino Extra.

Step 1: Log in to the casino where you wish to deposit your money and click on the "Deposit" option. At Casino Extra, this option is located in the top right corner of the home page.

Once you have clicked on "deposit", you will be redirected to the deposit page. Select "Neosurf" from all the choices available to you. Once you have made your choice, enter the amount you wish to deposit at the online casino you are at.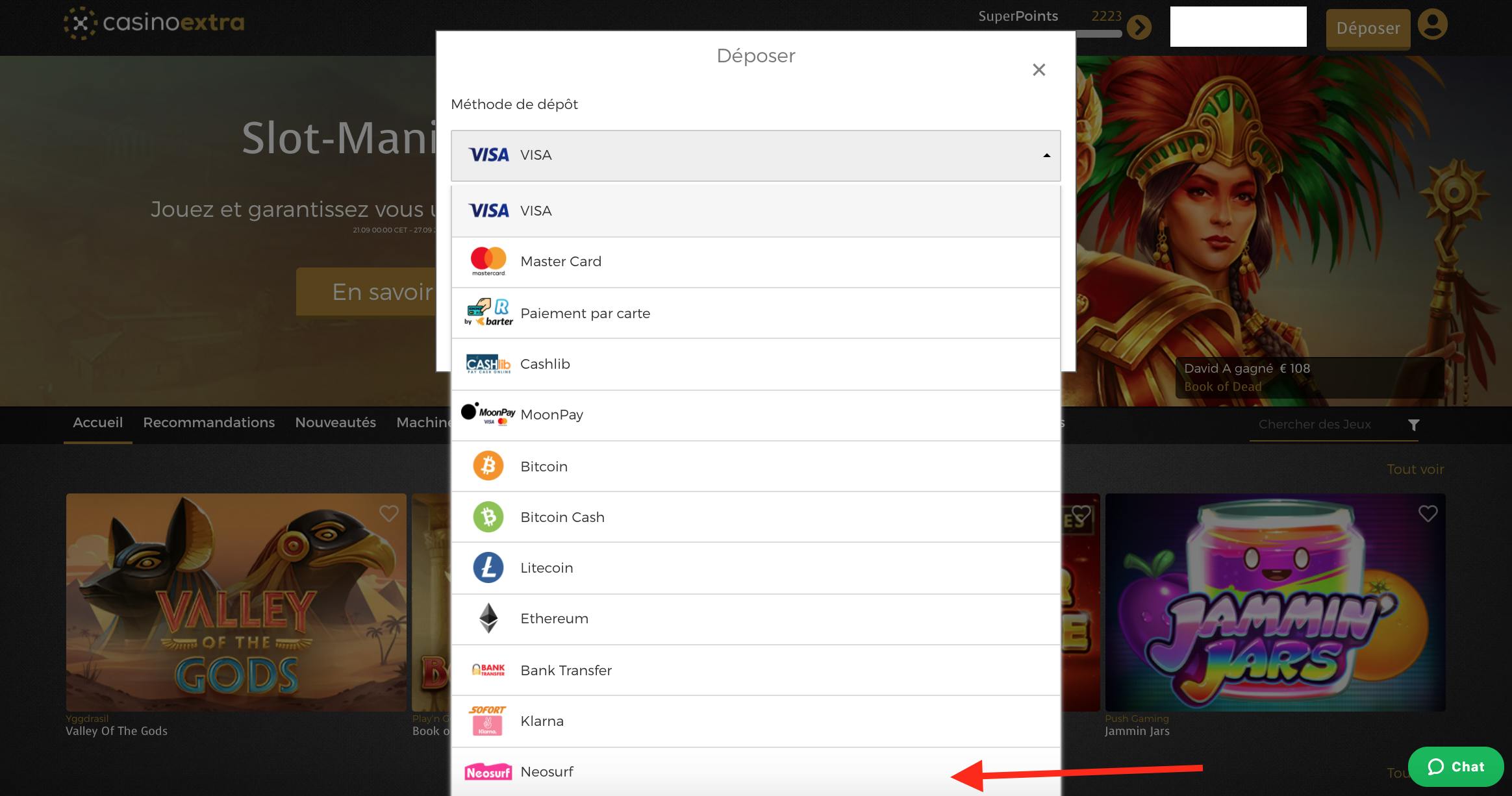 Once this step has been completed, you will be redirected to a Neosurf page. All you have to do is enter the code present on your ticket previously purchased in a sales outlet. If you do not have a ticket but a virtual card, enter the code displayed on the "MyNeosurf" site as explained above.

After validating your code, you will receive the money directly into your online casino account. Now all you have to do is have fun and above all, take care of your money.
Conclusion on Neosurf and the online casino
Increasingly present on commercial websites, the Neosurf payment method is also making a very noticeable entry into the world of online casinos. For example, Casino Extra, the number 1 online casino on Lucky7Bonus, accepts Neosurf deposits.

This allows players who do not have a credit card to be able to play at an online casino if they have some cash leftover. A clear advantage compared to other casinos that do not yet accept this type of deposit.

Moreover, this very secure method allows you to remain completely anonymous when depositing money at an online casino. This is an important option for players who do not like to enter their personal information on the web.

In short, the Neosurf prepaid card has a bright future ahead of it and some online casinos have understood this.

If you have a Neosurf prepaid card with you and wish to deposit money at an online casino, it is possible to do so at Casino Extra or Fatboss. Just click on the name of the casino to be redirected to it.