Esqueleto Explosivo 2
5 min left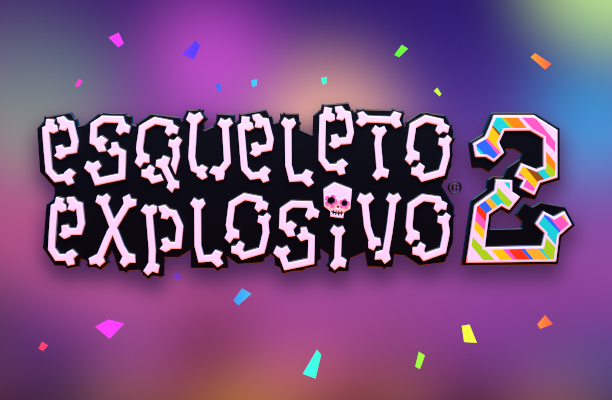 Play for free
Free slot: Esqueleto Explosivo 2
Ready to play at an online casino?
Quickfacts
| | |
| --- | --- |
| Provider | Thunderkick |
| Creation year | 2020 |
| RTP | 96% |
| Volatility | HIGH |
How Esqueleto Explosivo 2 works
In 2015, Thunderkick honored the famous Mexican holiday El Dia de Los Muertos in Esqueleto Explosivo, a highly dynamic slot that quickly became one of the provider's most popular machines. And in January 2020, Thunderkick is back with Esqueleto Explosivo 2, the sequel that many players have been waiting for with great anticipation! Five years have passed between the release of the first opus and this sequel, so obviously a lot has changed and some very nice new features have appeared. Lucky7Bonus is delighted to introduce you to the very festive universe of Esqueleto Explosivo 2! The first big change is that while the first game only had 17 paylines, Esqueleto Explosivo 2 has 99 paylines! So, if you have a minimum of three symbols on adjacent reels from left to right, you'll get a win! This multiplies your chances of winning money! And with a 96% payout ratio and high volatility, there are ways to win big on this machine.
The different symbols of Esqueleto Explosivo 2
Graphically, Esqueleto Explosivo 2 is very similar to its predecessor, with of course some improvements. Otherwise, the symbols present are the same. You will find six different symbols, all in the form of a skull but with different colors. Here they are in order of payment: cyan skull, orange skull, blue skull, green skull, pink skull and purple skull. The purple skull is the one that can earn the most and is very recognizable, especially with the earrings and roses in his hair. Below are the potential payouts for each symbol in relation to a €1 bet.
In addition to these symbols, you may also encounter a symbol called Explosivo Wild. Its primary function is of course that of a wild symbol that replaces any symbol except the Scatter symbol. But the twist is that this symbol explodes and takes with it all the nearby symbols (between 3 and 8 depending on its position) except the Scatter symbol and the highest paying symbol. The Scatter symbol, represented by a metal skull, allows you to win free spins if you make it appear between 3 and 5.
The different connections in Esqueleto Explosivo 2
In Esqueleto Explosivo, the first one, you could make connections with its five reels and 17 paylines. In the second game, you still have five reels to connect, but this time Esqueleto Explosivo 2 doesn't have 17 paylines, it has 99 paylines! This gives you even more opportunities to make a winning connection and win money. Otherwise, no significant change, connections are always made from left to right, with a minimum of three identical symbols on three consecutive reels. The much loved Mucho Mutiplier is of course back. As a reminder, the Mucho Multiplier is a progressive multiplier with the progression located under the reels. Each time you log in, the multiplier increases to the next level! The more you connect, the higher the multiplier. From x1, the Mucho Multiplier can go up to x32 in base game! And if you don't log in but an Explosivo Wild appears, the multiplier still increases, giving you another chance to win!
How the bonus works in Esqueleto Explosivo 2
Yes! This is the big news in Esqueleto Explosivo 2! Absent on the first opus, Thunderkick has fulfilled the wish of a good number of players by adding a bonus feature on its sequel. To get this bonus feature, all you have to do is make three metal skulls appear on your screen. You will get 10 free spins, but if you manage to get four, you will get 12 free spins and even 14 if you get five skulls on your screen!
Once in your bonus round, your goal is to get Explosivo Wild symbols to appear. Every third wild symbol will not only give you an extra free spin, but it will also remove the lowest multiplier and the next one will become the base one! You can also try to win more free spins during the bonus round if you land the Scatter symbols again. However, there is no buy-in bonus feature for Esqueleto Explosivo 2. So you'll have to be patient to try and hit the jackpot!
Our opinion on Esqueleto Explosivo 2
Long awaited by Esqueleto Explosivo aficionados, we can say that the Swedes from Thunderkick have totally succeeded with Esqueleto Explosivo 2! All the ingredients that made the success of the first opus are present in this sequel, with the addition of small improvements that only enhance the game experience. The atmosphere is always as pleasant, we are totally taken in a Mexico that celebrates El Dia de Los Muertos. The music is always as effective and the mariachis who sing when you win are always pleasant. But the icing on the cake, the big plus that completes the success of this slot machine, is the introduction of a bonus feature, cruelly absent from its predecessor. The machine is fun, easy to understand and will satisfy both beginners and experienced players. Esqueleto Explosivo 2 is available at most online casinos, and if you want to test Esqueleto Explosivo 2 for free, you can do so at Lucky7Bonus!
Frequently asked questions
📈 What is the volatility of Esqueleto Explosivo 2
💸 What is the RTP of Esqueleto Explosivo 2
🎰 What is the provider of the slot machine Esqueleto Explosivo 2 ?
📈 What is the volatility of Esqueleto Explosivo 2
💸 What is the RTP of Esqueleto Explosivo 2
🎰 What is the provider of the slot machine Esqueleto Explosivo 2 ?
Giveaways & promotions
Testing another provider ?
It is possible to play other providers on Lucky7bonus, here is the list:
Join the Lucky7Bonus' VIP
Fill in the form below with your email address to get new bonuses!
This site is protected by reCAPTCHA, under Google's Privacy policy and Terms of service.
The best slots from the same provider
Here is a top slot machines that are a big hit with other online casino players! We've selected a few for you:
Join the Lucky7Bonus' VIP
Fill in the form below with your email address to get new bonuses!
This site is protected by reCAPTCHA, under Google's Privacy policy and Terms of service.