Free slot :
Duck Shooter
This is the free slot machine Duck Shooter from the provider Gamomat
Ready to play it on an real casino?
How Duck Shooter works
The Duck Shooter slot machine was created by supplier Gamomat and deployed in online casino catalogs on October 24, 2018. Do you want to become an outstanding hunter and claim a bounty on all your catches?
Don't wait any longer and come and shoot as many ducks as you can to increase your earnings. In these groups of ducks, it is possible that you will meet some very big ones, don't miss them!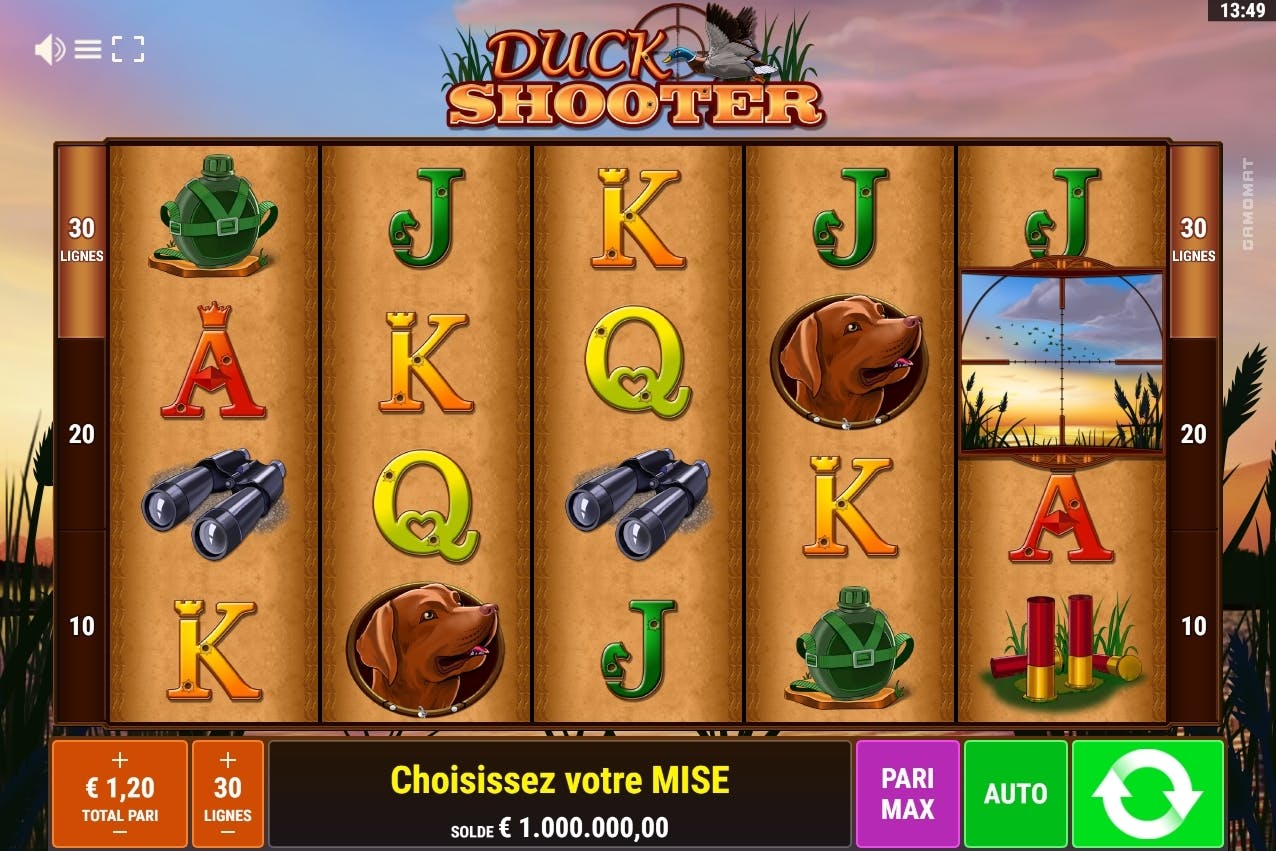 Duck Shooter is composed of five rolls of four symbols that connect from left to right based on pay lines. It is possible to choose the number of lines between 10, 20, or 30, depending on your choice it will affect your bet.

Duck Shooter has an RTP (Return to Player) of 96.09%, no information on maximum winnings has been provided by Gamomat.
Duck Shooter Symbols
Like every slot machine, there are different payout symbols. Two types of symbols are available:
Minor symbols: They pay the same amount and are represented by the jack, queen, king, and ace.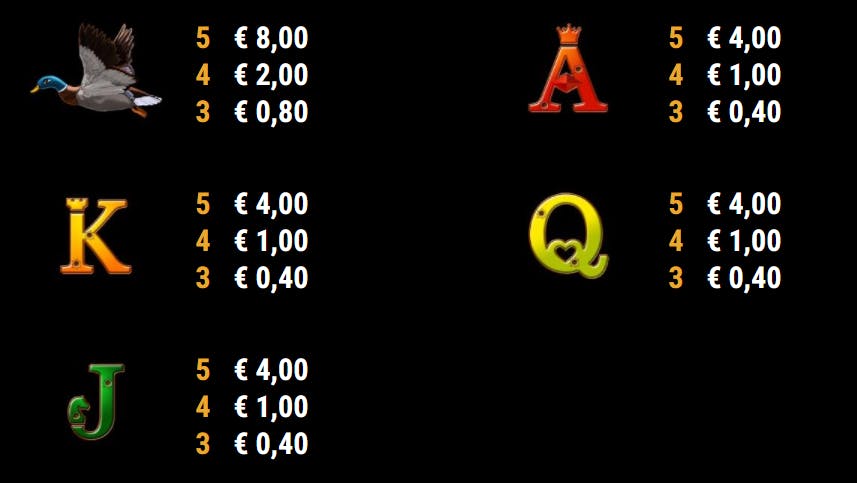 Major symbols: They pay differently according to their rarity and are represented by the duck, the gourd, the cartridges, the binoculars and the hunting dog.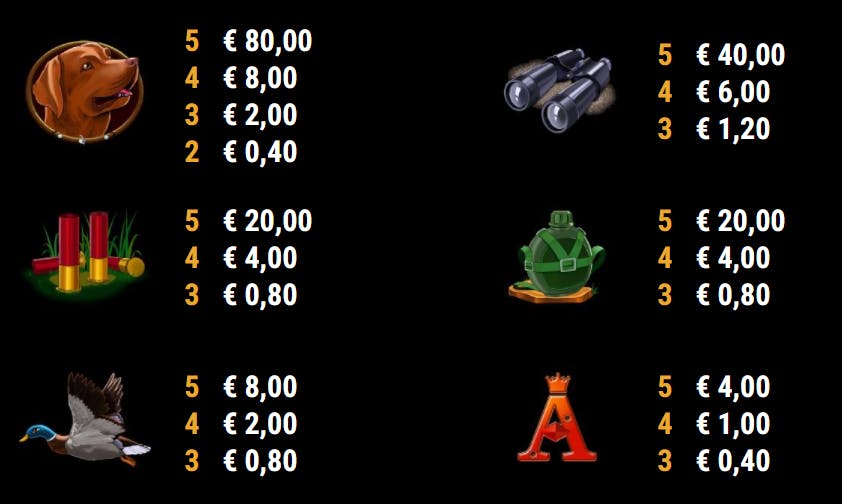 The Wild: It is represented by a hunter and replaces all symbols except the Scatters. It can only appear during the free ones.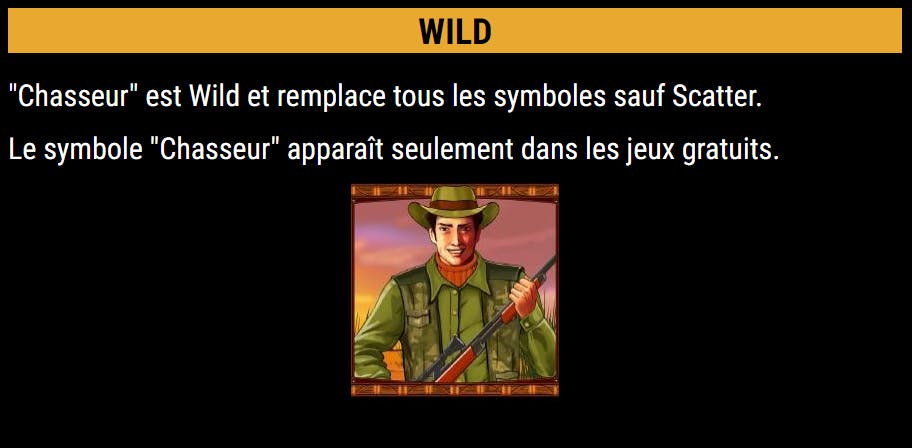 The different connections in Duck Shooter
As mentioned in the intro, there are 30 pre-set payment lines. These pay lines can be changed at the player's discretion between 10, 20, and 30. Depending on the number of pay lines chosen, the bet changes.

In order for a pay line to activate, it is necessary to connect at least three identical symbols, from left to right, starting from the first reel.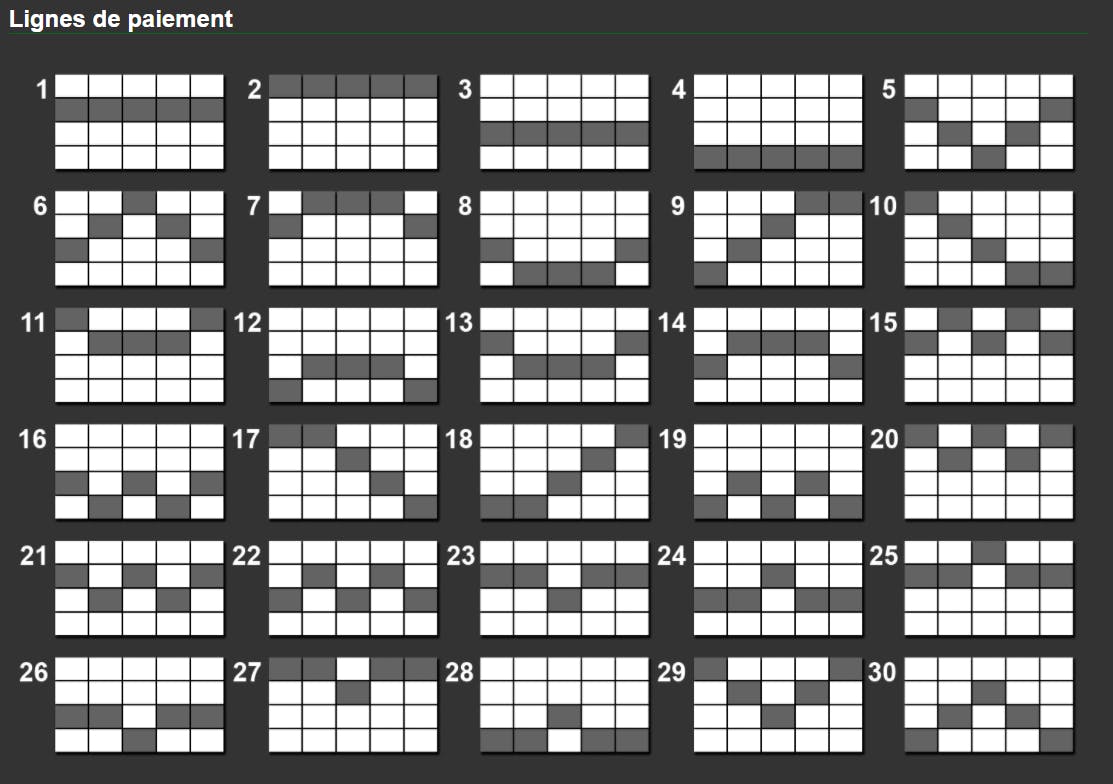 How the Duck Shooter bonus works
This is where the name Duck Shooter takes on its full meaning. After obtaining a minimum of three scatters, you will be awarded a minimum of 10 free spins. The number of free spins can vary depending on how many scatters you get when you get the bonus.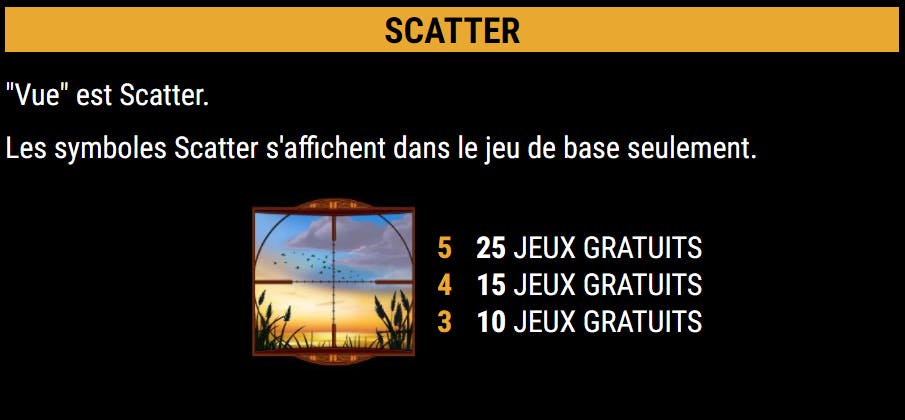 During free spins, bonus symbols represented by ducks appear on the reels. Each of these ducks has a different take, with the classics paying five times the wager and Super Shot paying 50 times the wager.

It's not all about having these ducks, you also need the Wild symbol represented by the hunter to shoot the ducks and collect the winnings. It is possible to have multiple Wild symbols during a single free round, doubling the winnings.

During free spins, there is no symbol to increase the number of free spins. When you get them, this number is fixed and unchangeable.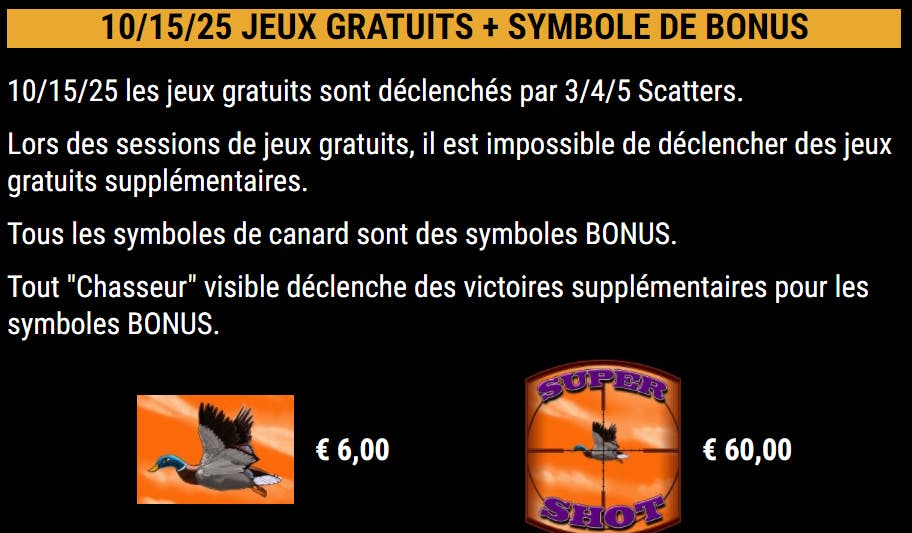 Our opinion on Duck Shooter
Like all Gamomat machines, Duck Shooter features an old-school design with a sound design in line with its theme: duck noises, hunting rifle shots, lively music, and the classic Gamomat sound for the slot machine operation.

Duck Shooter is very interesting during its bonus game which is totally different from its base game. It is not very interesting for the player who does not reflect the potential that the Duck Shooter Slot Machine has to offer.

Whether you arrive in the bonus game, you finally discover the real potential of Duck Shooter which allows you to immerse yourself in the skin of an outstanding hunter looking to shoot down the biggest targets.
📈 What is the volatility of Duck Shooter
💸 What is the RTP of Duck Shooter
🎰 What is the supplier of the slot machine? Duck Shooter
The best slots from the same provider
Here is a top slot machines that are a big hit with other online casino players! We've selected a few for you:
Giveaways & promotions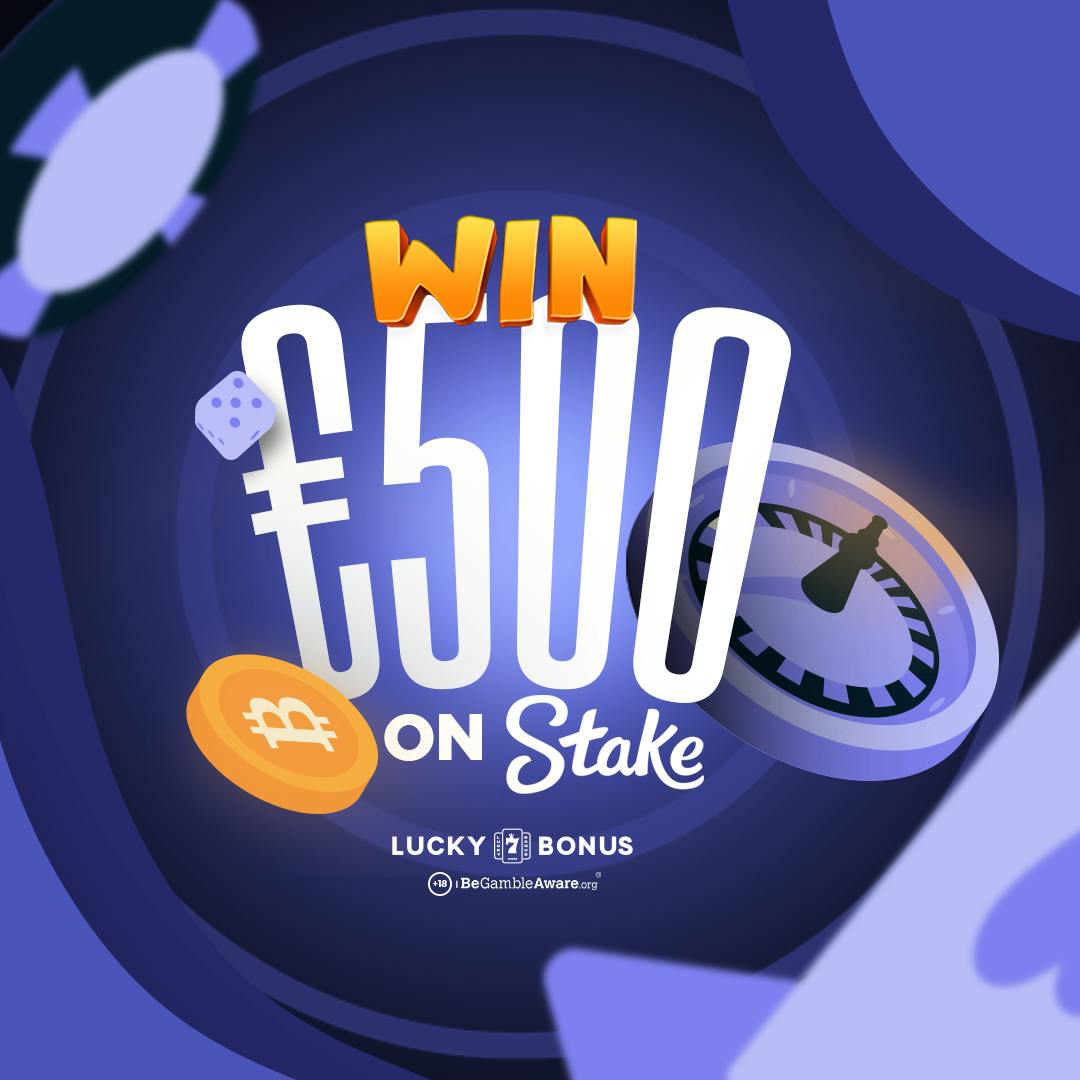 Testing another provider ?
It is possible to play other providers on Lucky7bonus, here is the list:
Interested in our VIP?
Wanna get free-spins and no deposit bonuses? Join Lucky7Bonus' VIP by filling your email!
This site is protected by reCAPTCHA, under Google's Privacy policy and Terms of service.